Share the love
Once the crew finished interviewing Satoko's dad, they let me know that they would split up and one crew would film in town while the other would go to the festival and I could choose which one to go to. Guess which one I chose?
So, the festival was held at the Middle School grounds. The grounds were intact but the school had been destroyed and burned. The festival was really cool. The military band played- they are very entertaining, and the high school band performed. There was also professional Taiko drumming.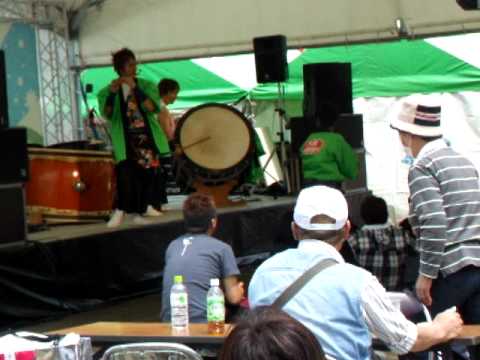 It was nice to spend the day with Etuko-san, Machiko-san, Satoko and Ami. Nana had a basketball game so she couldn't be there. Sachiko (Crazy Mama) came also and Akiko stopped by for a few minutes to say goodbye.
Etuko called Fumitaka's mom and Satoshi's mom and I got to talk to both of them. That was really nice. Lauren (my oldest daughter) called while I was there. It was so nice to talk to her! She was going to the carnival in Fort Bragg. I called Casey so that she could talk to Satoko, her mom, Nana's mom and Ami. Nana's mom cried.
Casey said that talking to them was the best thing in the world.
There were a lot of people there and it seemed like people were enjoying themselves. It was a really hot but beautiful day. We sat at some picnic tables and visited for a long time. I asked Etuko-san and Machiko-san if there was just one thing that Fort Bragg could do for Otsuchi, what should it be. Machiko-san said, "The money is good, we need that. But this…" and here she gestured between us meaning this visit, "is better." She said that she feels closer to the people of Fort Bragg and to the exchange program than ever before. It meant so much to me to hear her say that, I was moved.
After the festival we went to see a sumo wrestling exhibition over by the bath houses. As we walked up to the field there was a buzz of excitement. There was a very tall, huge wrestler at the entrance and he was surrounded by people wanting autographs. Ami explained that this man was very famous in Japan and that it was very exciting to meet him. So, we got his autograph and some pictures with him. He was not Japanese so I asked him where he was from…Estonia. Interesting note: He speaks five languages: Estonian, Russian, English, German, and Japanese.
There were wrestlers there from all over the world- Estonia, Russia, Japan. We got a few more autographs and also took some pictures with the former #1 wrestler in Japan. Etuko and Machiko giggled like schoolgirls to get their picture with him. It was so cute. Ito-san and Tobai-san were there.

There was a sumo wrestling show at 3pm with the current world champion sumo wrestler. It was inside a covered area with a dirt square and raised dirt platform in the center. We all went in and found a place to sit. The CBS crew was in the stands across from us. As soon as we got settled there was a flurry of activity around us and we were herded down onto the dirt to sit right in front of the raised platform. Satoko's mom was explaining to me that these are called "sand in the face" seats and that it was an honor to sit there. Anton came over to mike me and said, "you're not getting away with this one" and so Bob came to sit with us and we talked about the "sand in the face" seats and what an honor it was.
The wrestlers came out. There were three of them: The champion and two others. There was also another man who had some pieces of wood that he would bang together. They positioned themselves on three sides of the raised platform.
The champion came to the center. He squatted down and you could see his muscles quivering, He raised one leg and….BAM! He raised the other one…BAM! Then they left.
I looked at Bob and he looked at me and said, "is that it?" I looked across at the cameraman and he was laughing hysterically. It was hilarious. Not exactly newsworthy I guess, but everyone seemed to have a great time and they were excited to have seen him.
We saw Sera and her mom on the way out.
Ami, Satoko and I were standing on the road waiting for Satoko's mom to pick us up and Ami looked at me and said, "stay." It broke my heart. I wish I could. One of the CBS drivers has decided to stay in Otsuchi. He wants to volunteer and Ken-san hooked him up. I think that's amazing.
Next, we met at our favorite restaurant: Lawson's convenience store. We've eaten breakfast and lunch there every day. I had to say goodbye to Etuko-san, Machiko-san, Ami and Satoko there. It was very hard. I don't want to leave.
Now that I've been crying, it's time to go back to town center and interview with Bob. I always seem to have to interview right after having a good cry. I'm fairly certain that very little of it will make it onto the show though, so I'm not worried about it. It will be a 12 minute segment: 11 minutes of Ken-san and 1 minute of me crying. I'm good with that.
We did the interview at the jazz bar (what's left of it). The past two days have been very hot and the stench is overwhelming. There are also flies everywhere. There is nothing worse than that smell. Nothing.
Now, it's time to go. I said goodbye to Chris, Ron and Anton (the cameramen and sound guy). They had to drive down to Sendai because they can't travel on the bullet train with all that equipment. It will be a grueling trip for them. I also had to say goodbye to Fuki, Masa and the other drivers. Masa said he would find me on Facebook. I'd given them all gifts at the hotel that morning so there was nothing left but to say goodbye.
So, with Hiroshi-san, Bob and Draggan I left Otsuchi.
The drive through to Tono was very treacherous. It's basically a one-lane, very winding road through the mountains. Beautiful, but my heart was in my throat the entire time. It took about 2 1/2 hours to get to Morioka.
As much as I didn't want to leave, it was a relief to get on the Shinkansen (bullet train). Draggan wanted to buy a little toy Shinkansen for his son. He came back with it and Hiroshi-san leaned over and said, "you don't want that. That's a staple gun." I said that was a great gift, his wife was going to really appreciate it when his son staples his little sister's fingers together. Draggan said, "but it staples REALLY FAST!" We laughed so hard.
By the time we got to Tokyo Station it was about 11:30pm. Draggan and Hiroshi-san took one cab and Bob and I another. I got to my room at about 12:15am. They had given me a message at the front desk. It was from Ogihara-san, who had made a trip to bring supplies to Otsuchi with her daughter and son-in-law . I will be meeting her for tea tomorrow. She said she has some pictures for me.
We met in the hotel lobby at 11. She came with her mother. They were both very nice and we talked about both of our trips. Her son-in-law, Stephen Green, is from Mendocino. She told me that she is coming to Mendocino and will stay for 3 months. I'll look forward to spending some time with her. It was great to meet her.
My taxi is here. I fell asleep almost immediately and slept all the way to the airport. I feel totally exhausted.
At the airport, I got something to eat, picked up a gift for each of my girls and exchanged my yen. Now, I'm on the plane waiting for takeoff. I'm anxious to get home but I'm so sad to leave. I wish I could have stayed longer.
This has been the most difficult but also the most incredible experience of my life and I will never forget it.